New Testament baptist Church - Lubbock, Texas
We accept you as you are, understand where you've been, acknowledge who you've become and still gently invite you to grow with us.
Welcome to New Testament baptist church in Lubbock, Texas.
As pastor, I take this opportunity to welcome you to the New Testament Baptist Church of Lubbock, Texas website. My wife and I moved to Lubbock in October of 1987 from San Angelo, Texas, where I had been serving as Music Minister, Youth Director and Associate Pastor at Baptist Temple Church for three years. The church in Lubbock had dwindled to seven adult members and in April of 1988, we reorganized with almost thirty charter members and Baptist Temple in San Angelo as our parent church. We began meeting in an aerobics room at the Y.W.C.A. and soon moved to the living room of our home and then to a rented building at 66th and Avenue P. We are now located centrally in Lubbock at 37th and Quaker Avenue, where we have already gone through one building program and purchased additional property at 38th and Quaker. The Lord has blessed the ministry here, and we give Him all the glory, honor and praise for it.

I was raised in the home of a fundamental Baptist pastor and his wife. My dad, Dr. Claude N. Craven, had long pastorates in Fort Scott, Kansas, and also Big Spring, Texas, where he retired from the pastorate in 1998. He went to be with the Lord in April, 2005. I was raised in a Godly Christian home and received Christ as my personal Savior at the age of twelve. At the age of fifteen I surrendered my life to fulltime ministry and went to Arlington Baptist College in the fall of 1971. It was at Bible College that Satan began to lure me toward the cares of this world, and I quit college after only three semesters of study. I ran from God from that point until 1982 when God got my attention via an accidental drug overdose.

When God brought me back to His service, I had nothing to offer but a broken life. I had experienced two divorces, alcoholism and drug addiction. Other men had raised my two daughters for the most part. I truly went out full and God brought me back empty. He did not see fit to send me back to Bible seminary, but he did see fit to give me another chance at ministry. My current wife, Melanie (Hayworth), and I were married in February of 1982. She had been raised in the church where my dad was pastor in Big Spring and had also experienced a divorce. We began our ministry together at Texarkana Christian School in the fall of 1982. In 1984, we were called to Baptist Temple Church in San Angelo.

Our ministry has been one of restoration. We believe that God would have us reach out in love not only to the lost but also to those who have been "injured" in church. Many people have told us over the past several years of ministry that they stopped attending church due to judgmental or critical attitudes, even from those in church leadership. We believe that we are to love people, in spite of their sin. We are never to be responsible for someone running "from" the church. We want to be a haven of safety and rest from the world, a spiritual hospital for sinners and a shelter in the midst of the storm. God, in His infinite wisdom, has used our church to do just that.

​Thank you for visiting our site.
Pastor Richard Craven


Powered by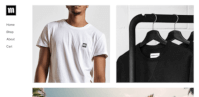 Create your own unique website with customizable templates.