NTBC Lubbock services
Sunday School – 9:00 am to 10:00 am
Infant Nursery: Birth to Potty Trained
Toddler Class: Potty Trained to Kindergarten
Primary Class: 1st, 2nd, 3rd Grades
Junior Class: 4th, 5th, 6th Grades
Teen Class: Junior & Senior High
Adult Class: All Other Adults
Prayer at the Altar – 10:00 a.m. on Sundays
Adults are invited and encouraged to bring their petitions to God and prepare their hearts for the worship service.

Worship Service – 10:30 a.m. on Sundays
Our music service includes a mixture of old-time gospel hymns as well as choruses. The music is designed to lift our hearts in worship to the Creator and prepare our hearts for a message from God's Word. Lonnie Kirk, who is our church clerk, serves as our worship leader. The congregational singing is normally followed by special music and a gospel message from the pastor. Messages are not announced in advance as the pastor is dependent upon the Holy Spirit to lead and even possibly change the message just prior to its delivery. An offering is taken at the end of the worship service to complete our time of worship as we believe that giving to the work of the Lord is a scriptural and important part of worship.

Mid-Week Service at 6:30 p.m. on Wednesday
During the summer months of June, July and August, our adults meet in the auditorium for a Bible lesson and prayer. Prayer requests are normally taken at the end of the Wednesday evening service.

Children's Ministry from 6:30 p.m. to 8:00 p.m. on Wednesday
During the school year (September thru May) we have a children's program called King's Kids, which is divided into three sections – lesson time, memory time and activity time. Many of our adults are involved in this ministry of the church. Those who are not involved in the children's ministry are encouraged to attend a Bible study in the auditorium at 6:30, which is taught by the pastor. An infant nursery is available during the children's program, but the actual program materials begin with children who are three years old and up. The Lamb's Club consists of three year olds. The Flyer's Club is for children four and five years old, and the King's Kids program is for students who are in grade school. King's Kids are currently divided into two groups – Primaries and Juniors. Students are encouraged to learn Bible principles and memorize Bible scripture (King James Version) and are rewarded according to their efforts. The goal of our children's program is to train children in the ways of the Lord at an early age. Children are encouraged to press toward their own personal goals of the program, and adults are encouraged to teach students basic Bible truth. Once a month they go to the King's Kids Store and spend the tickets they have earned during the program.

Youth Ministry
Those who will be twelve before September 1 are promoted into our youth group the first Sunday in June. Our youth group currently includes Junior High and Senior High students in one class, which meets each Sunday morning at 9:00 for Sunday School. Our youth leaders are Tracy & Crystal Spencer. Our teens have a corn roaster designed to raise money for youth camp and other teen activities and also to teach our teens good work habits. Our primary youth fundraiser is during the South Plains Fair each year in September.

​Mission Outreach
We believe that the heartbeat of the church is in its mission outreach; therefore, we support over ninety mission works at home and around the world. The majority of our missionaries are supported through the World Baptist Mission agency located on the campus of Arlington Baptist College in Arlington, Texas (www.wbfi.net). We believe that in order to fulfill the great commission given to the church in Matthew, we must reach out to our community, our state, our country and our world through evangelistic ministries. When a missionary family is approved by the World Baptist Fellowship mission board, we automatically take them on for support. We normally have at least one special meeting each year dealing with missions, and at the end of the meeting we ask our members to complete a Faith Promise card indicating the amount that they intend to give over the next year to missions. These cards are completed on a voluntary basis according to the amount that the Lord lays on the individual's heart. They are not "pledge" cards, and no attempt is made by those on staff to collect them. They are purely voluntary.
Powered by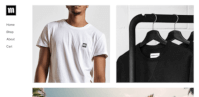 Create your own unique website with customizable templates.